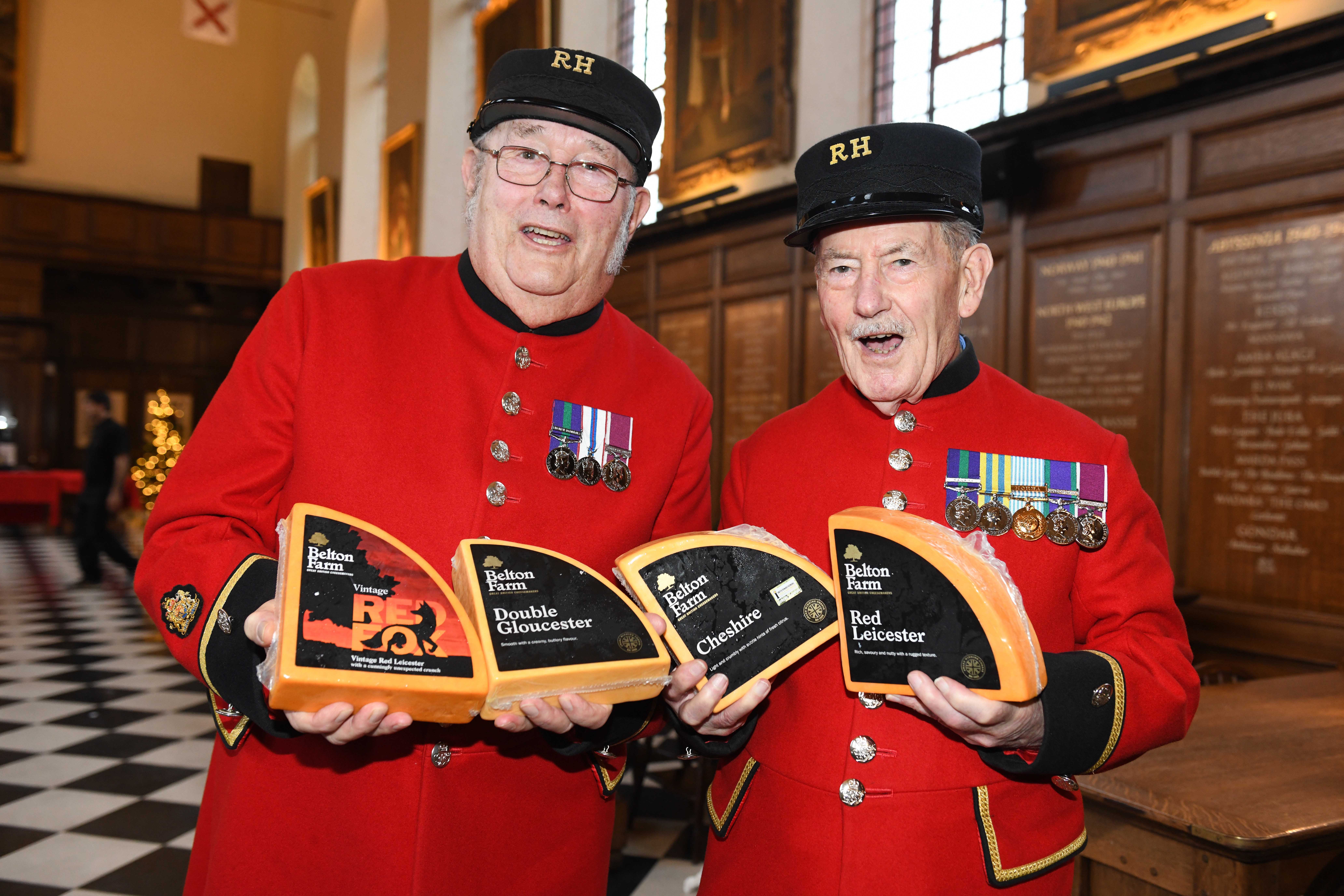 The Chelsea Pensioners kicked off festive celebrations with the annual Ceremony of the Christmas Cheese
Chelsea Pensioners & Belton Farm Welcome the Start Of The Festive Season & Celebrate the Nutritional Benefits of Cheese
London, 5th December 2018 – The Chelsea Pensioners kicked off festive celebrations with the annual Ceremony of the Christmas Cheeses, featuring a generous donation from Belton Farm. 
The Chelsea Pensioners joined on the 5th December for the annual Ceremony of the Christmas Cheese, to which Great British Cheesemaker's, Belton Farm generously donated nearly 25 kilos of their finest Red and White Fox, Coloured Cheshire, Red Leicester and Double Gloucester cheese. A total of 270kg of cheese was donated, with this year's ceremonial cheese a giant 24kg of Montgomery Cheddar, donated by J A E Montgomery Ltd.
With 2018 marking the centenary of the Armistice, tribute was paid to the brave men and women who have given their lives in conflict, and those who have fought in every conflict since WW1 to ensure our freedom. Dairy UK Chairman Paul Vernon also highlighted the historic role cheddar rations played in providing important nutrients to soldiers.
The traditional cutting of the ceremonial cheese was carried out this year by Chelsea Pensioner Alan Goddard. Alan enlisted at Southampton on the 13th March 1961, joining the Grenadier Guards and serving with the 2nd Battalion before retiring in 1983. Alan saw service in Hong Kong, Belize, British Guyana and completed four separate tours of Northern Ireland. He finished his career with a UN tour in Cyprus and was discharged in 1983, having been promoted to the rank of Sergeant and served 22 years.
Commenting, Alan said: "I feel very pleased to have been chosen to cut the cheese at this year's ceremony and to be a part of a Royal Hospital tradition that dates back to its opening in 1692. Thanks to the generosity of Dairy UK in continuing this tradition, my fellow Chelsea Pensioners and I can enjoy these delicious cheeses over the festive period!"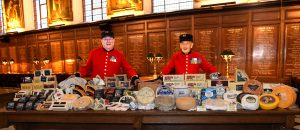 Chelsea Pensioners David Wright and Michael Wickens also took part in the celebrations. Mr Wickens joined the Royal Hospital in 2015. He enlisted at Portsmouth in 1952 into the General Service Corps as a boy soldier and on attaining adult service he was badged to the Royal Engineers. His service was mainly split between the UK and Germany but also included; Kiribati Island in the Central Pacific between December Southern Yemen and to Singapore and Thailand. He was finally discharged in 1992, having served for 39 years.
Mr Wickens commented: "I enjoyed playing my part in this year's Ceremony of the Christmas Cheeses at the Royal Hospital Chelsea. Even though the selection today was just a small part of this year's donation to the Hospital, it was astounding to see the generosity of the cheese makers of Great Britain. Long may this tradition continue."
Dairy UK Chair Paul Vernon also commented: "There's no better time than the annual Ceremony of the Christmas Cheeses to honour our brave veterans as well as celebrate the great taste and nutrition of cheese, along with our excellent cheesemakers. It's the perfect start to the Christmas season."
Entertaining the guests and Chelsea Pensioners at the ceremony was internationally acclaimed singer, pianist and songwriter Joe Stilgoe, who helped spread festive cheer with a medley of Christmas classics.