Belton Producer Rears Bulls for Genus Bull Stud
Rob Perry is one of our organic Milk Producers who has an 85 pedigree Friesian herd on the Shropshire / Cheshire boarder. He has been a supplier to Belton Farm for 21 years, as well as having a closed herd for 21 years. Rob rears all his own heifers on farm and has bred three pedigree Friesian bulls. Two bulls are currently at Genus, Ruthin Bull Stud – Peartree Bryster and Peartree Broxton and a third at Cogent – Peartree Georgeson.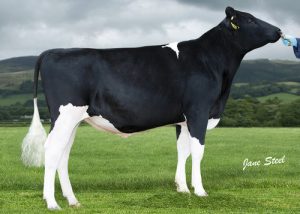 (Peartree Broxton – Above)
At 4 months old the Genus bulls are taken to Reaseheath College for quarantine, where they are held for 2 months whilst undergoing genomic testing and screening for diseases, by Genus' own dedicated vets.
Peartree Bryster was born in September 2016 and is now the biggest selling Friesian Bull in the world. Peartree Broxton was born the following year, September 2017, whose sexed semen will be sold in America this year.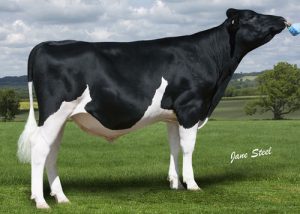 (Peartree Bryster – Above)
"No1 GPLI available British Friesian bull, Peartree Bryster is also currently Genus' leading individual export bull. Bryster will have progeny born in over 15 countries, spread across 5 continents. Friesian genetics continue to be very popular in many global markets particularly those that have production systems focused on grazing or seasonal calving where the British Friesian's exceptional daughter fertility is really appreciated."
Rob stated "It just makes it all worthwhile" after discussing the process that he goes through with the bulls and also the recognition on the AHDB website.