Justin Beckett presents the John Beckett Memorial Cup at the Cream Awards 10th Anniversary
The Cream Awards – Dairy Industry Trade Awards – is the premier event for UK dairy farmers. Organised by British Dairying magazine in 2013, this annual event showcases some of the brightest and best people, businesses and innovations the industry has to offer. It is designed as an upbeat event to demonstrate what UK dairy can and is achieving, the winners are ambassadors for the industry, showing leadership and innovation at a time when this is most needed.
The overall company of the year, chosen by the judges, wins the prestigious John Beckett Memorial Cup.
Justin Beckett, Managing Director at Belton Farm, attended the event on Thursday, 7th September, presenting the John Beckett Memorial Cup to the 2023 Cream Award Cup winners, Grosvenor Farms, for the second time. Grosvenor Farms are the first business to have won the Cream Awards Cup twice – having been awarded this prestigious title in 2016.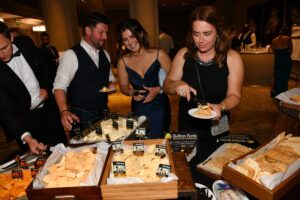 Belton Farm showcased a range of cheese for the after-dinner cheese table, which went down well after the presentations. The event was a great success for many businesses and individuals across the UK. For a complete list of all the award winners, please follow the link – https://creamawards.uk/archive/