Success at The Society of Dairy Technology Awards for the Belton Team!
The Society Dairy Technology (SDT) Annual Dinner and Awards Ceremony took place in the Members Pavilion at the Staffordshire County Showground on the 29th June, the day before the International Cheese and Dairy Awards.
Celebrity Chef, Matt Tebbutt, presented the SDT Annual Awards to the 2022 winners and we are delighted to announce that Ian Luxton, General Manager at Belton Farm and Chairman of the International Cheese & Dairy Awards committee was awarded the Society Dairy Technology President Award.
The President's Award is a biennial award made by the incumbent SDT President to a member who has given outstanding service to the Society and the dairy industry. In addition to his leadership at Belton and across the UK dairy industry, Ian provided the enthusiasm and drive to establish and successfully locate the ICDA event in the excellent all weather Bingley Hall facility at Staffordshire County Showground. As a member of the SDT Ian added huge amounts of value and support as a keen advocate and by leveraging the resources and facilities of the industry to further the aims of the Society. Ian was awarded a SDT President's Award Medal.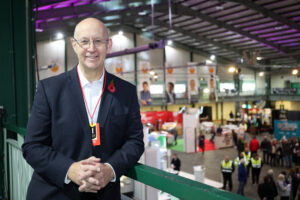 We are also extremely pleased to announce Marcin Sompolski from Belton Farm was awarded the SDT / International Cheese & Dairy Award Student of the Year Award.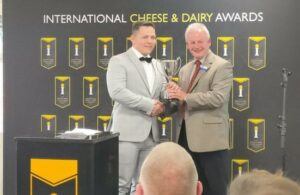 Above: Marcin Sompolski (left) receiving his award
Marcin, an Eden graduate who is currently studying for a BSc (Hons) in Food Manufacturing & Operations Management at the University of Chester received the award in recognition of a project he carried out evaluating the reduction in time and temperature on the cleaning regime and its impact on the overall cleanliness and performance of the whey pasteuriser at Belton Farm. Marcin was awarded a trophy and a Tetra Pak Handbook in recognition of his achievement.