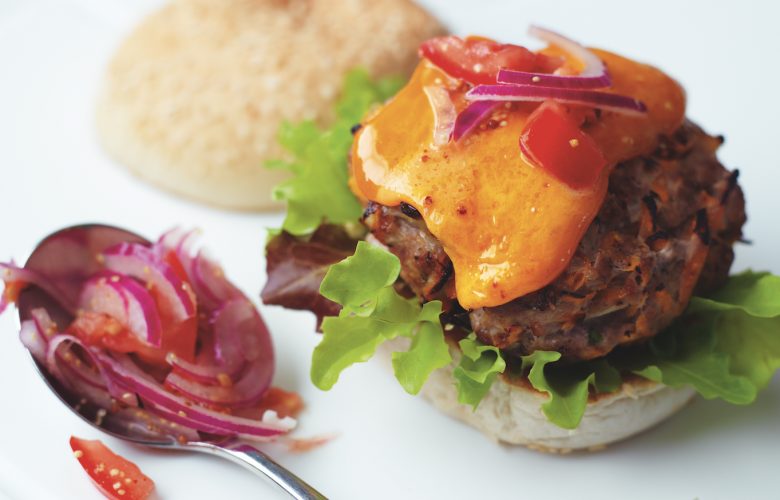 Under the Spotlight: Red Leicester & Cracked Black Pepper
Under the Spotlight: Red Leicester & Cracked Black Pepper
Our Belton Farm Red Leicester & Cracked Black Pepper cheese is perfectly seasoned thanks to a traditional, bespoke recipe that makes best use of our Red Leicester's uniquely savoury flavour and rugged texture. It is typically aged for up to 12 months but can be sold at 6 months of age too.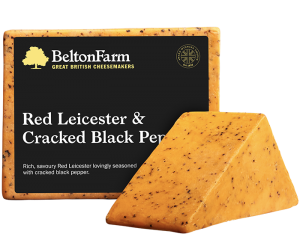 Did you know?
What we now know as Red Leicester was originally just known as Leicestershire Cheese. The red and white distinction appeared after the war, as it was originally just white. After 1945, they started to add the natural colouring agent, annatto to make a point of difference to the cheese after the war had ended.
Perfect food pairing
Red Leicester and Cracked Black Pepper is ideal for grating into an omelette for great taste, a dash of colour and a hint of black pepper. It is also a superb melting cheese for topping Nacho's, a traditional Lasagne and also to top off a Red Leicester Burger with Tomato and Onion Relish. This fabulous and colourful cheese is also a perfect addition to an after dinner cheeseboard.
Did you know?
Red Leicester and Cracked Black Pepper is a cheese which has been a consistent award winner for a number of years for Belton Farm.
Unlike many additive cheese on the market, this cheese is unique due to the fact that the ingredients are added during the cheese making process, in the vat. This gives the cheese a typical cheese texture we all know, along with its interesting depth of flavour combination as a result of the additions.
Perfect drink pairings
Cheese and wine is what immediately springs to mind, but pale ales and bitters (such as British Butter or Pilsner Lager) can be a real winner with Red Leicester and Cracked Black Pepper – as can whisky, so long as you use the right bottle

 – Sauvignon Blanc

 – Rioja

 – British Bitter or Pilsner lager