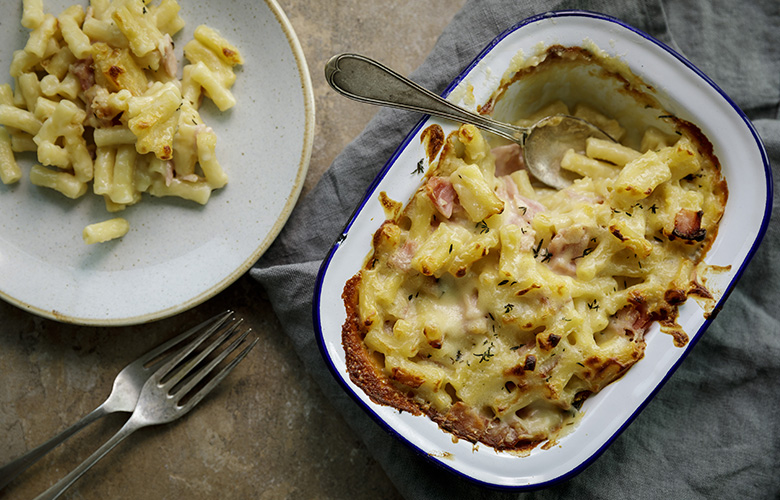 Cheddar and Bacon Macaroni
Ingredients
sea salt
freshly ground black pepper
45g butter
3 heaped tablespoons of plain flour
10 cloves of garlic, peeled and finely sliced
a few bay leaves
1 litre semi-skimmed milk
600g macaroni
8 plump tomatoes
150g finely grated Belton Farm Cheddar
100g finely grated Parmesan
a few sprigs of fresh thyme with the leaves picked
2 splashes Worcestershire sauce
3 generous handfuls of fresh breadcrumbs
6 cooked, chopped rashers of bacon
The Cheese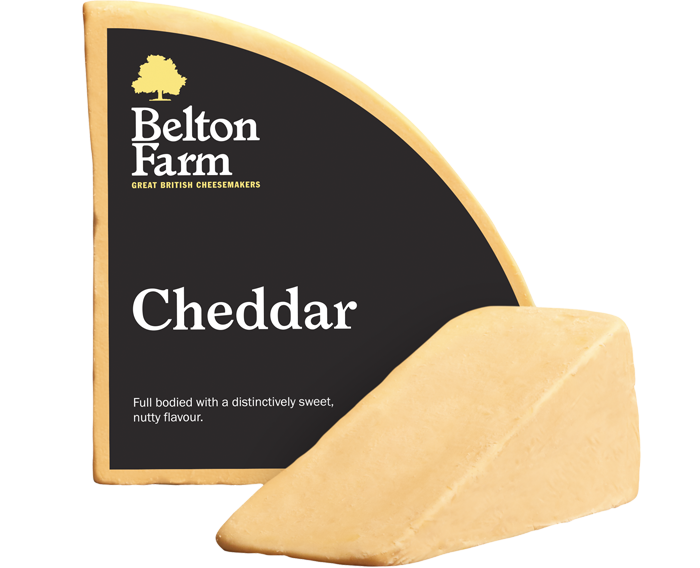 Cheddar
Method
Put a pan of salted water on the boil. Melt butter over a low heat and add the flour, stirring and slowly turning the heat up until you get a paste.

Add the sliced garlic and keep stirring until the paste is golden and sticky. Add bay leaves then whisk in the milk until you're left with a smooth sauce. Bring the sauce up to the boil and then leave to simmer. Preheat the oven to 220ºC/425ºF/gas mark 7.

Add the pasta and cook to the instructions on the packet. Drain once cooked to your liking and add immediately to the simmering sauce. After a good stir, take the pan off the heat and add in the grated Cheddar, Parmesan, bacon, tomatoes, thyme leaves and a few splashes of Worcestershire sauce.

Stir and season to your satisfaction, then top with breadcrumbs and a few drizzles of olive oil before transferring to a deep casserole or earthenware dish. Bake until golden, bubbling and crispy, then serve with a crisp green salad.