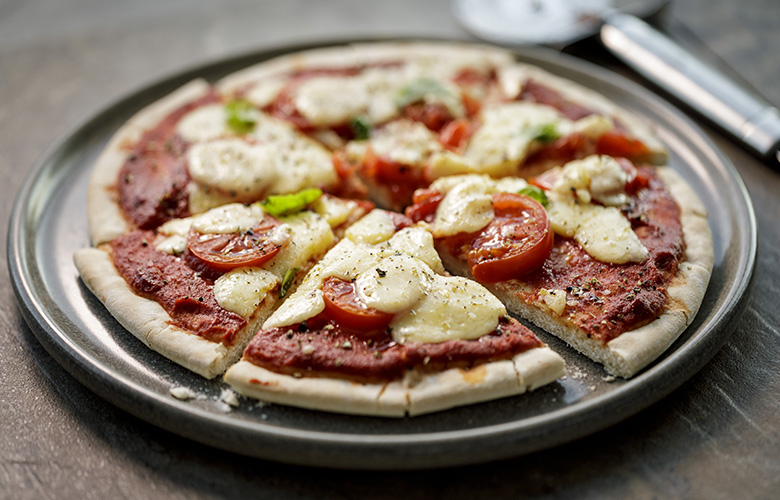 Ingredients
For the dough
300g strong bread flour
1 teaspoon of instant yeast
1 teaspoon of salt
1 tablespoon of olive oil
For the tomato base
100ml tomato passata
a handful of fresh basil
2 crushed garlic cloves
For the topping
125g sliced mozzarella
a handful of grated Belton Farm Organic Cheddar
a handful of halved cherry tomatoes
The Cheese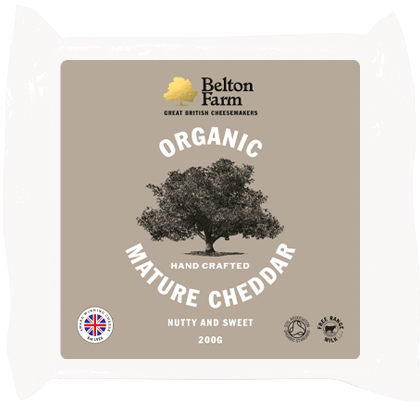 Organic Mature Cheddar
Method
Pour the flour into a large bowl, stirring in yeast and salt along the way. Add 200ml of warm water along with the olive oil and bring together with a wooden spoon until you have a soft, fairly wet dough.

Lightly flour your worktop and turn the dough onto it, kneading it until it is smooth. Cover with a tea towel and leave to one side while you make the tomato sauce base.

Mix the passata, basil and crushed garlic together, then season to your liking. Let it stand at room temperature while you shape the base.

Separate the dough into two balls and roll them out into large rounds, roughly 25cm across. Don't worry about thickness at this stage – the rounds need to be fairly thin as they will naturally rise in the oven.

Lift the rounds onto baking sheets, heat the oven to 240C/fan 220C /gas mark 8. Smooth the sauce over the two rounds with the back of a spoon before scattering the mozzarella, grated Cheddar and cherry tomatoes on the top.

Drizzle the lot with olive oil and season to taste. Bake one pizza on its own for 8-10 minutes and then serve with another drizzle of olive oil, or a small handful of basil leaves. Repeat this step for the second pizza, if needed.