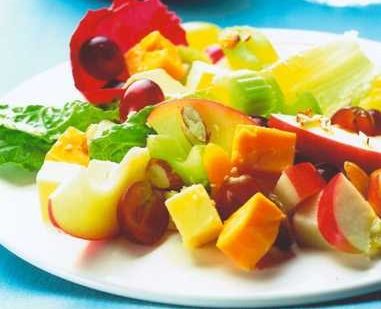 Port Wine Derby Fruity Cheese Salad
Ingredients
110g (4oz) Belton Farm Port Wine Derby

110g (4oz) Belton Farm Coloured Cheshire
Juice of 1/2 lemon

6 celery sticks, sliced

2 red apples, cored and chopped

150g (5oz) red or green seedless grapes, halved

100g (4oz) ready-to-eat dried apricots

25g (1oz) raisins or sultanas

25g (1oz) almonds, chopped (or use toasted flaked almonds)

A few crisp lettuce leaves, shredded

1 teaspoon sesame seeds
The Cheese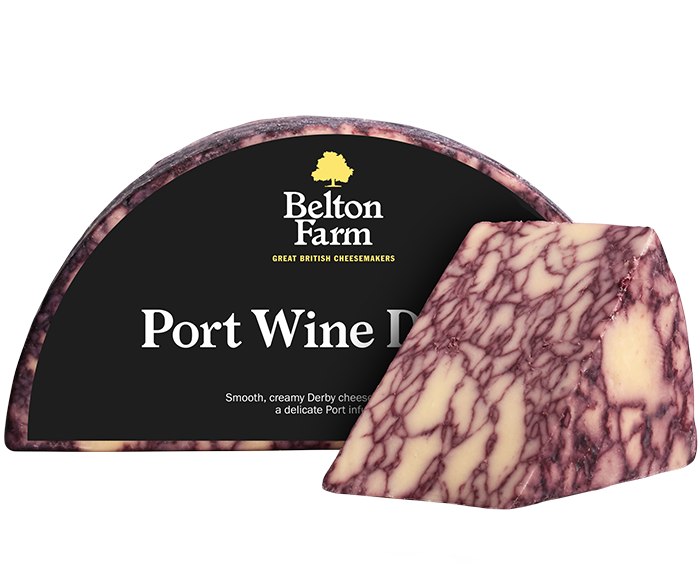 Port Wine Derby
Method
Cut both cheeses into bite-sized cubes.

Put the lemon juice into a large salad bowl and add the celery, apples, grapes, apricots, raisins or sultanas and almonds. Add the lettuce and cheese cubes and toss the ingredients together.

Put the sesame seeds into a small frying pan and heat, stirring them often, until they start to brown. Cool for a few moments, and then sprinkle over the salad. Cover and chill until ready to serve.