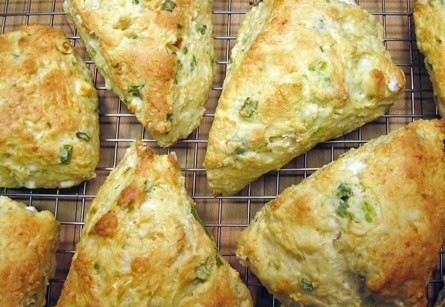 Belton Farm Sage Derby Cheese Scones
Ingredients
500ml flour (2 cups)
15ml baking powder (3 tsp.)
large pinch salt
sprinkle of cayenne pepper/chilli powder (optional)
250g Belton Farm Sage Derby Cheese
15ml vegetable oil (3 tsp.)
125ml milk (maybe a drop more depending on how it mixes)
1 egg
The Cheese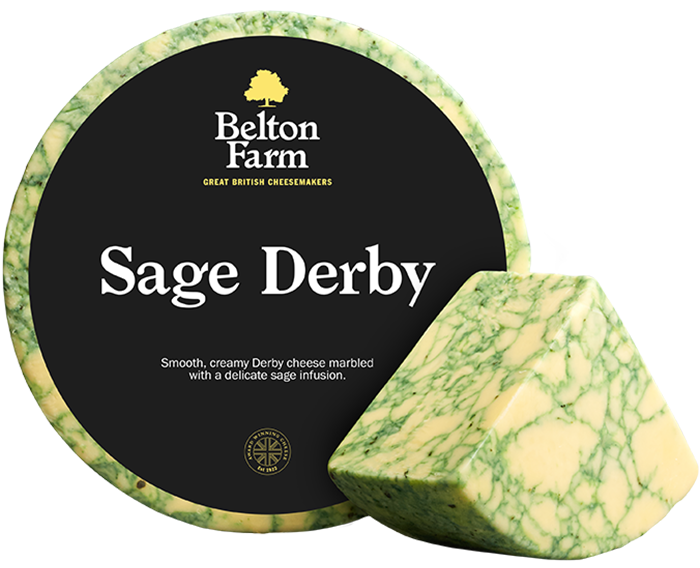 Sage Derby
Method
Sift flour, baking powder, salt and cayenne pepper into a large bowl. Add the Belton Farm Sage Derby cheese and mix through the flour mixture.

Beat the egg and milk together in a separate bowl and add the oil. The oil replaces the butter/margarine that usually gets used to rub into the flour. By using the oil you cut down on the dreaded calories and it saves a lot of time.

Pour the milk/egg/oil mixture into the flour mixture and using a metal spoon / fork, mix the dough until it clumps together, but is not too dry. If too dry, splash a drop more milk in to use up the flour.

Press the dough out on a flat clean floured surface until it is about 5mm thick, then fold it over on top of itself (this gives the finished scones the natural "break" to cut open), flatten it again, using the palm of your hand. Do not use a rolling pin as it is too heavy and will prevent the scones from rising.

Cut out your scones out by using a round cutter (you decide on the size) or if you don't have a cutter handy use a drinking glass. Place them on a baking tray; pop them in the oven at 180°C / 350°F / Gas Mark 4 for fifteen to twenty minutes. Serve, still warm.