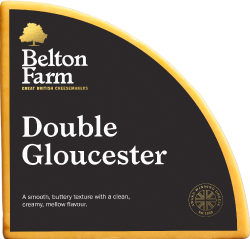 Double Gloucester
Smooth with a creamy, buttery flavour, rich and nutty yet mellow with a straw like colour from the addition of natural plant extract, annatto.
Double Gloucester is a particularly good melting cheese. Aside from that, Double Gloucester's texture has enough bite to make for a satisfying snack in its own right.
There are fewer more enjoyable snacks than a thick slice of Double Gloucester on a biscuit.
Sizes
Block 1 x 20kg
1/16 Block 4 x 1.24kg
Trad 1 x 12kg
1/12Trad 3 x 1kg
Wheel 4 x 4kg
1/2 Wheel 2 x 2kg
Prepack 8 x 179g
Ingredients
Pasteurised Cow's Milk, Salt, Starter Culture, Annatto, Rennet
Contains Milk
Awards
International Cheese Awards 2019 – Gold Award & Winner of the John Beckett Trophy
Great Yorkshire Show 2019 – Gold & Silver Award Winner
Serving suggestions
• Grate into a simple cheese and onion soup
• Cubed with grapes for a mid-morning snack
• A superb melting cheese for a satisfying cheese toasty
Beer and wine pairings

 – Sancerre

 – Zinfandel

 – British Pale Ale